This is a sequel to the article I published last week. Just to remind, I'm writing about real-life horror stories of publishing images online and I explain how to avoid them.
6. Bulk image download
Website cloning is usually done just by running a few lines of code. But if someone wants to grab all the images from your website manually it is not going to be difficult. This is because all the images are in the source code and the website pages are linked. Below you can see a free Image Downloader plugin for Google's Chrome that I used to download 181 photographs of handbags from Google Images. The plugin downloads every JPEG on the website page in just a few seconds. Do these images belong to Google Images? Of course not, Google Images is just a gateway allowing me to obtain direct access to any relevant images hosted by website owners across the world. We don't even have to visit their websites to download all these images in full resolution.
Our solution: As advised earlier, don't publish JPEGs because they will all be listed in the source code and easy to grab. SmartFrame is completely inpenetrable to the plugin I use in the example below.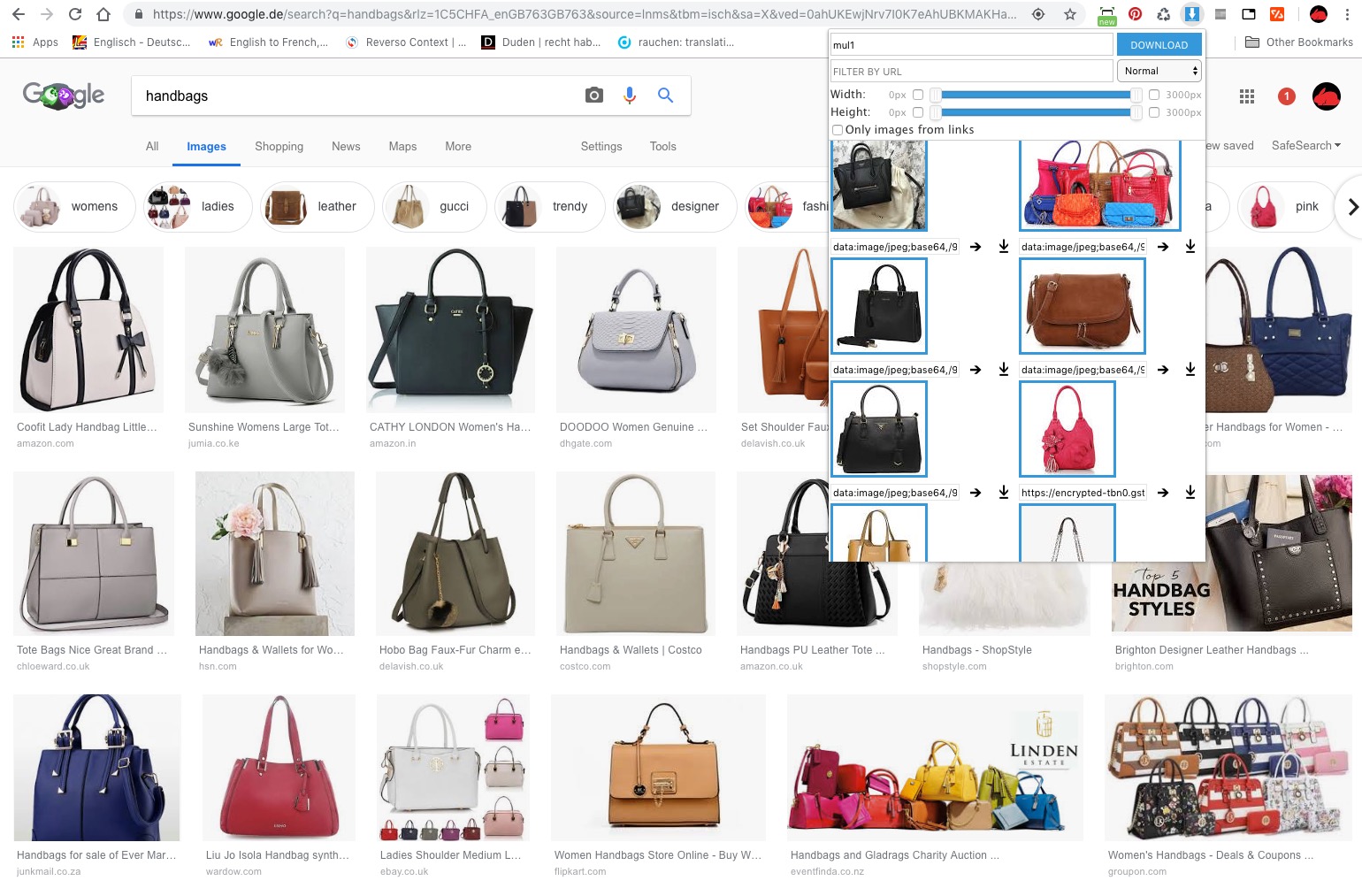 7. Re-sharing without permission and viral distribution
As we have explained, sharing pictures online can result in images being altered without permission and re-shared as memes. Success Kid, an image taken by a photographer of her son, is a well known photo that went viral. After posting the image to Flickr people modified the image and added their own slogans. A father posting a photo of him and his son discovered the picture on Reddit, Tumblr, Pinterest, Facebook after it was modified and turned into a meme. In this case parents managed to monetise the photograph and even support a campaign funding father's kidney transplant, but kid's face remains on the internet forever and cannot be erased.
Out of respect for the kid and also copyright issues, I decided not to publish his photo here but used a licensed stock photo instead. You can find the original photo of the Success Kid and a very interesting background story on Wikipedia.
Our solution: Don't give away the source file because it can be modified and re-shared. SmartFrame has built-in sharing and embedding tools that allow for the sharing of photos as SmartFrames, without access to the source image.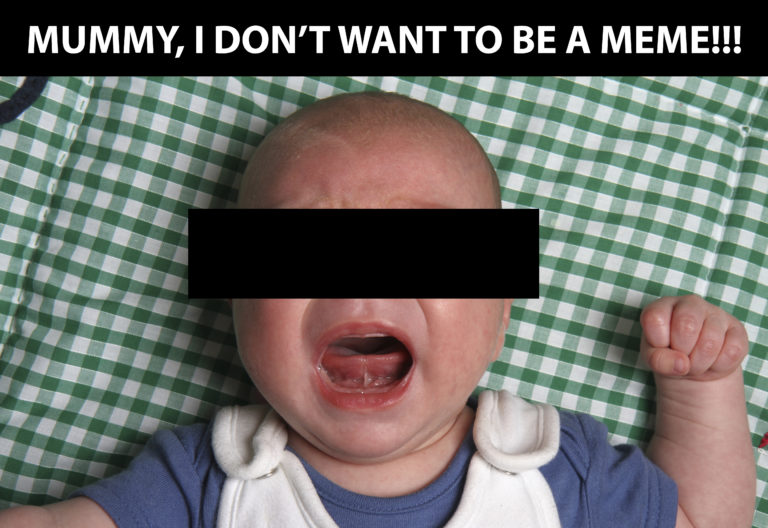 8. Impersonation
It is hard to believe that someone would steal a photo and claim the image as their own. Photographer Martin Leckie is one of many who have suffered at the hands of online photo scam artists. He discovered that his photos – and complete website design (minus a minor colour change) – had been copied by the UK's Coleen Sullivan. This type of photo theft is probably more common than you think.
You can read more about this case and many other similar cases on the StopStealingPhotos website, dedicated to tracking and exposing such activity.
Our solution: Make sure that your photos are safe and protected from theft. SmartFrame successfully prevents at least 95 percent of unauthorised image downloads, according to our research.
9. Commercial usage without your permission
Do you recognise this man below? I seriously doubt that Subaru Black Hair Shampoo paid George Clooney for the headshot used to advertise the product. Any time you share a photo online there is a risk that it can be used for commercial purposes.
For example, Christmas photo of an American family was displayed on a Czech billboard without their consent. The photo was uploaded to a personal blog and social media website by a member of the family. Imagine how shocked the family were to find it had been published on a billboard after the owner of a store in Prague found it online and used it to promote his business. In another case, a crashed car uploaded by a Flickr user was used as part of an advertising campaign by Virgin Australia. The photographer didn't check the license rights of the uploaded image. In this case, it was one that allowed for commercial use. Virgin Australia was able to legally use the picture without paying the photographer a single penny.
Our solution: Apart using various means to protect your images as discussed already, it is important to be aware that someone is using your images. SmartFrame works in partnership with ImageRights, a reverse search engine that identifies when a photo has been published without the owner's consent. If a photo you own is used for commercial purposes, you may be able to make a lucrative compensation claim. ImageRights provides a no-win, no-fee legal support service and can represent your interests in court. Talk to us to find out more.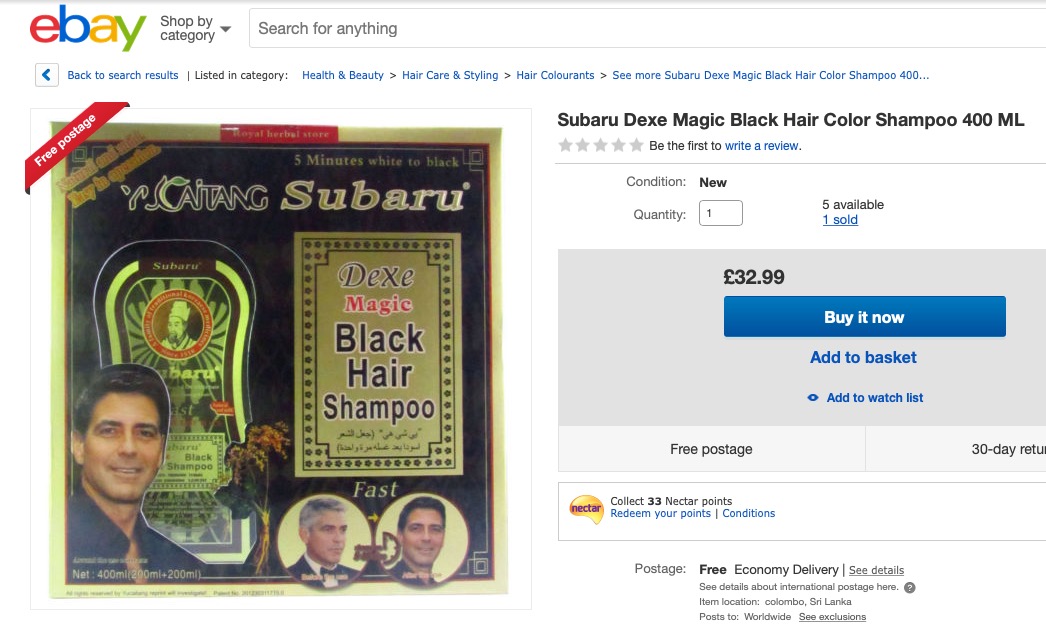 10. Users downloading without permission
I know these scams are pretty scary. You may think that it will never happen to you. But remember, billions of people browse the Internet. Someone might just like your photo. This begs the question of how someone actually does attempt to steal an image online.
We asked a group of Internet users to make a record of their unauthourised attempts to download an image. Each person surveyed made a right mouse click and tried to drag-and-drop the image. If this didn't work, the next step was often to inspect the source code of the website. Some users attempted to save the website to a file on their hard drive or use image download plugins. Others took a screenshot or attempted more exotic methods to steal an online photo. Our study found that a simple copyright warning was enough to deter most attempts.
We estimate that about 90 percent of online photos fail to disclose the photographer who took the image. Basic information about the picture is also often absent, such as where it was taken and the intellectual property rights relating to the image. Always remember to take the following steps to protect your online photos:
Include author and copyright information in the metadata.
Watermark the image
Don't publish large images as JPEGs
Our solution: Protection against all known methods of accidental image download or theft. In our study, half of those who attempted to unlawfully download an image gave up in the first 30 seconds before searching for an alternative picture on Google Images. Only 10 percent spent more than 60 seconds trying to hack SmartFrame's download protection. Very few succeeded. By default every image uploaded to the SmartFrame platform is protected from the following manual download methods:
Right click and download or attempting to open in a new tab.
Drag and drop.
Saving a website to a file.
Looking for an image path in the source code.
Searching for the image in a browser resources panel.
A screenshot attempt (the most common method).
Use of image download plugins.
SmartFrame also loads a sharing and embedding panel into the image area, together with configurable author information and a copyright warning. You can even watermark every image automatically and track each download attempt.
These out-of-the-box solutions are available on the SmartFrame platform and users can obtain access free of charge*. Interested in learning more about how SmartFrame can guard precious photos? Register now or send an e-mail to find out how SmartFrame can manage your digital content.
*SmartFrame's free plan offers up to 500MB of storage and includes a discreet link to our website. White-labelled plans with 5GB of storage or more start from just $15 a month.
Related articles