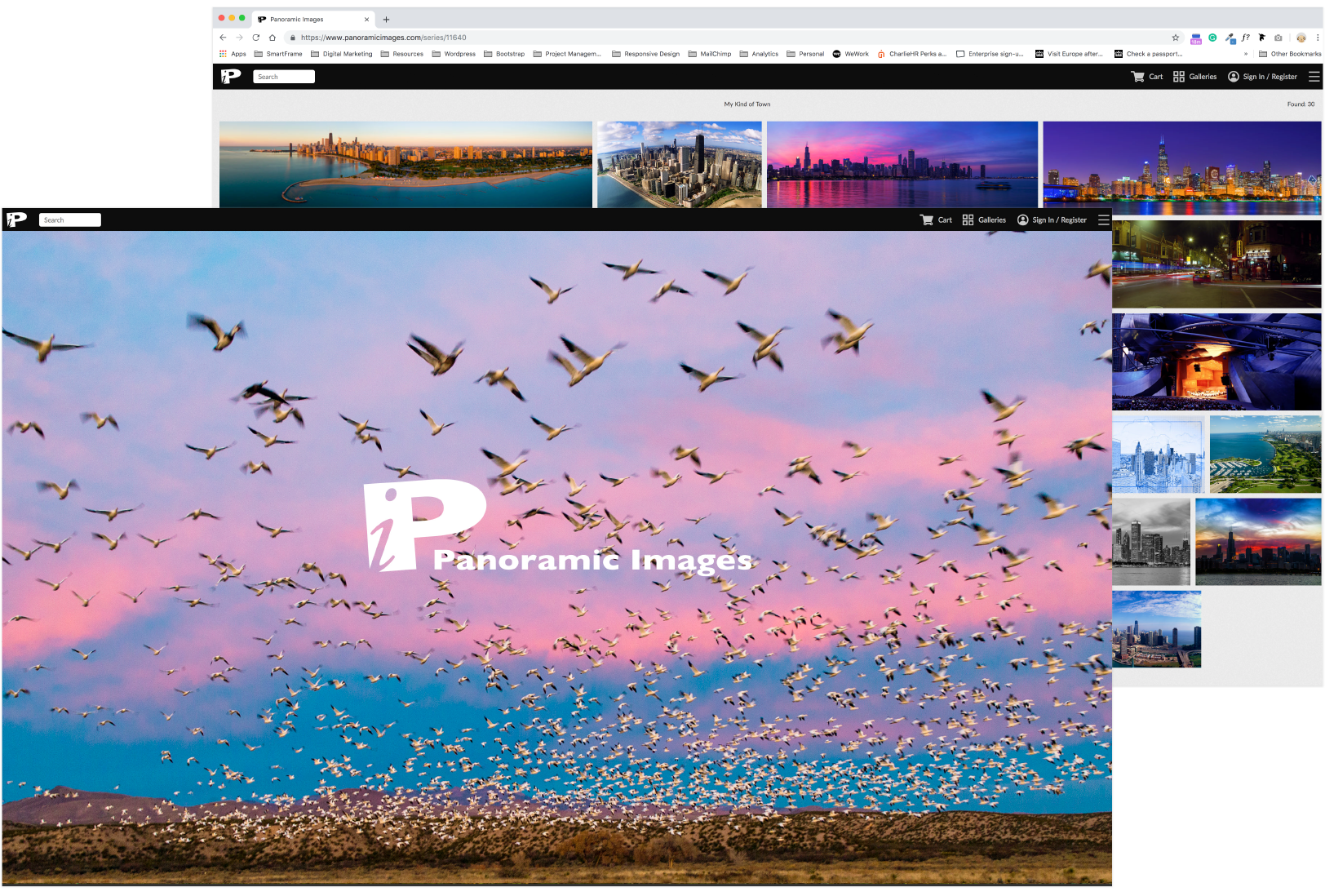 As a business, Panoramic Images spans the evolution of photography from the age of film to the instant gratification of today's viral digital age. The Illinois-based big stock picture specialists was set up by two brothers, Doug and Mark Segal, and opened for business in 1987. Inspired by their father, Ed, a panoramic photographer who captured presidential inaugurations, the pair chose to follow in his footsteps and specialize in the wide, large-format style. The brothers developed a niche in marketing larger format panoramic stock images to the leading advertising agencies. Panoramic now houses more than 300,000 digital files and original transparencies. Everything from the raw beauty of nature to bustling cityscapes is displayed in the big picture format. Today, Panoramic provides high resolution, high-quality images to a client base that spans the globe.
Meet the client
A Smart Way to the Big Picture
Panoramic had its business model bolted down to perfection in the nineties. "We would only FedEx actual mounted film, original and duplicate transparencies to our clients who examined them on the light table with an optical enlarging lupe," recalls Doug. Protecting the business against image theft was a relatively straightforward process: Specially designed slide mounts protected each image. If the protective covering was zipped down it indicated that the image was used to create a comp layout. "Back then it was standard practice in stock photography to charge a 'research fee' and also a 'comp fee'," says Doug. "If original transparency film was lost we could go after the client for damages of up to $2,500 and sometimes more."
This all changed with the advent of digital photography, which began to creep into the mainstream of image production in the late nineties. Seemingly overnight, Panoramic lost the ability to track possible comp usage. "We also had difficulty showing our images as large as the standard digital display grid favours the standard format file of 2:3. Very much like the original 35mm film being the standard for stock agencies back in the day."
A lost advantage in film
The brothers needed to find a solution to protect their images – and business – in a digital age far removed from the one the pair entered in 1987, a time when film was the undisputed king. This task was further complicated by Panoramic's specialty in wide format images. Conventional web solutions resulted in small or cropped thumbnails and previews that failed to convey the significantly larger characteristics of Panoramic's product. "Ironically, while our oversized film had won the war of the light table against 35mm, the large format panoramics lost their size advantage on the standard image web display grid," says Doug. Panoramic's efforts to protect its stock portfolio in the digital age ruffled some feathers. Visual watermarks made their way on to Panoramic's website in early 2000 but the technology resulted in the image being obscured, making it hard for designers to see the file and show it to their clients. "While our first image searchable website in 2003 did not have visible or invisible watermarks on the downloadable preview-sized images, eventually we incorporated visible watermarks which irritated some clients," recalls Doug.
Panoramic Images
A multi-purpose solution for a digital age
SmartFrame's focus on protecting visual assets while enhancing a user's experience gave Panoramic the answer to its two most pressing challenges: Obtaining the bandwidth to display its large format images in a digital format while also keeping them safe from online theft. Panoramic decided to take the plunge in 2016 and deploy the SmartFrame service. "As very early adopters we had to deal with the usual 'pointy end of the stick' issues," says Doug. Still, he found SmartFrame highly responsive, embodying a commitment to delivering a high-quality user experience. "We enjoyed working with them throughout the process," he recalls.
Being able to accurately track the downloading of preview images on the platform is particularly valuable to Panoramic, according to Michelle Novak, Panoramic's Director of Content. "We need to show images and make it easy for customers to put files into their layouts while still retaining some tracking of the images, which is accomplished through the SodaWare software technology in conjunction with SmartFrame," she says. "The integrated email UI that enables users to effortlessly share image previews was also a nice surprise."
Panoramic's speciality in wide, large-format images makes SmartFrame's Hyper Zoom feature particularly valuable. Capturing the full raw beauty of an image is integral to the SmartFrame proposition. Renowned photographer David Yarrow also deploys SmartFrame's Hyper Zoom function on his website.
A 'safety net' for the online age
Michelle describes SmartFrame's service as a "safety net for the Internet," providing a watertight means of protecting the thousands of images housed within Panoramic's stock portfolio. SmartFrame has enabled Panoramic to seamlessly integrate its stock photography catalogue into the digital age. Panoramic has successfully built on its heritage in film to present its photos in a digital format to clients across the world. "I love being able to say 'we're using the most advanced image theft protection technology on the planet," says Michelle.