David Yarrow Photography was one of our earliest adopters to fully integrate SmartFrame technology into their website. Initially using stand-alone jpegs they evolved to solely using SmartFrames across their e-commerce website to showcase David's fine art photography online.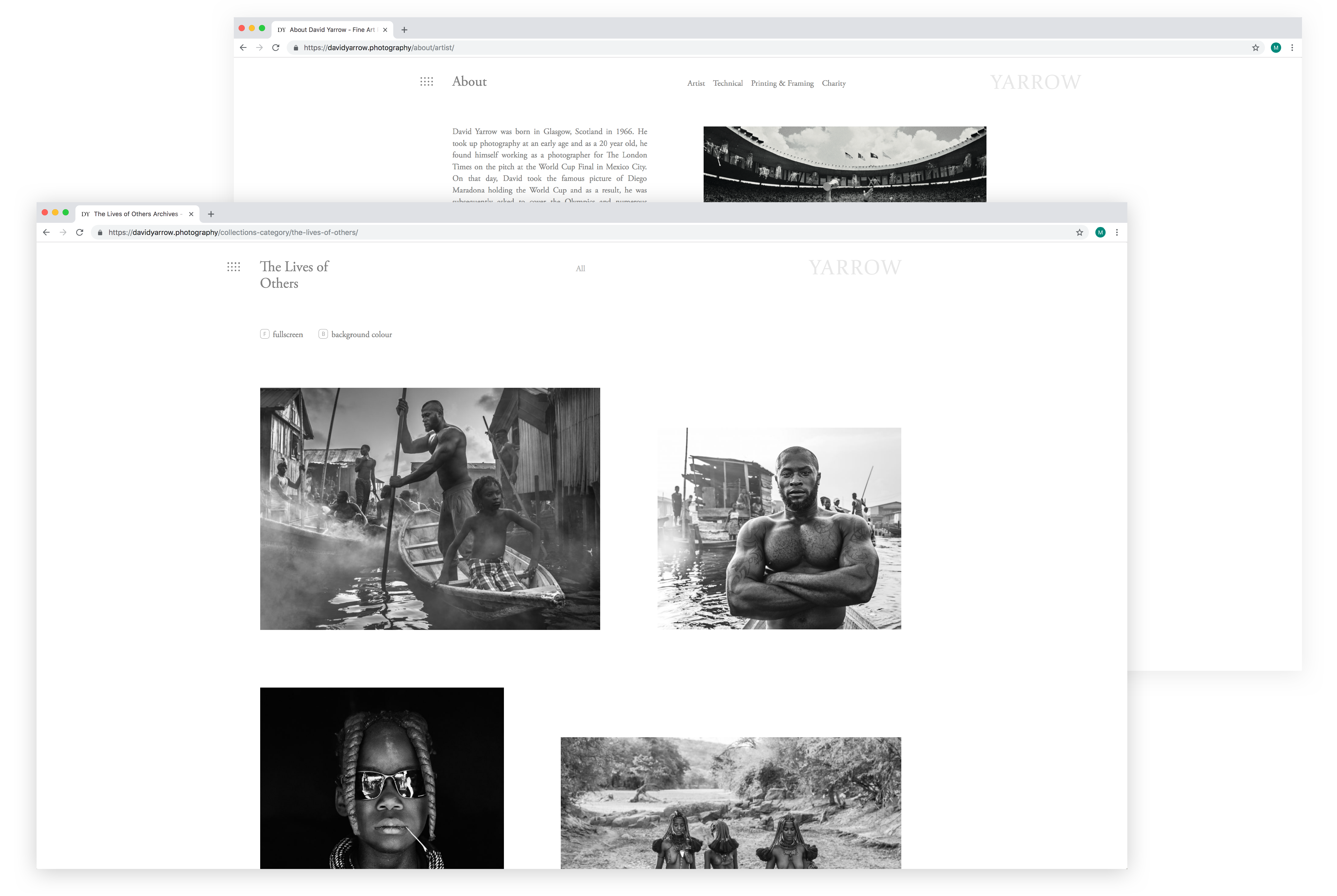 Meet the client David Yarrow
David Yarrow was born in Glasgow, Scotland in 1966. He took up photography at an early age and as a 20 year old, he found himself working as a photographer for The London Times on the pitch at the World Cup Final in Mexico City. On that day, David took the famous picture of Diego Maradona holding the World Cup and as a result, he was subsequently asked to cover the Olympics and numerous other sporting events.
His large monochrome images made in Los Angeles are on display in many leading galleries and museums across Europe and North America. By the spring of 2017, he had firmly established himself as one of the bestselling fine art photographers in the world, with the limited edition prints (just 12 in an edition) regularly selling at over $40,000 a piece and his well-received recent work is now priced even higher.
At a Sotheby's auction Yarrow's iconic image from South Sudan – Mankind – was sold for $75,000 – the highest of the 100 lots in the show.
In April the following year David's image "The Wolf of Main Street" sold for $100,000 and was the highest bid for piece by a living photographer and most recently "78 Degrees North" went for an impressive $110,000.
In 2016, Rizzoli New York published his latest book – Wild Encounters – with a foreword written by HRH The Duke of Cambridge (Prince William). His status as an artist and conservationist was confirmed in June 2017 when he was invited for a private lunch with President George W. Bush in Dallas, Texas.
Philanthropy and conservation are indeed central to David Yarrow's passion to document the animal and human world in a fresh and creative way. In 2017, charitable donations from the sale of David's images exceeded $1.2 million, with four of David's pieces raising $186,000 in just a few minutes at the Tusk Gala dinner in New York City in April 2017.
David Yarrow shares his experience using SmartFrame
In October 2018, SmartFrame sat down with David Yarrow to talk about life before and after SmartFrame. Prior to using SmartFrame, David was not able to showcase his images online with the quality and detail down to every last pixel as they were meant to be seen.
David shares with us how his business has benefited from the ability to present his work with the high level of detail it was meant to be seen in with every pixel clear even when it is zoomed into. Presently with SmartFrame you can zoom to view the image at 100% of the originally captured, high resolution image.
One of the biggest issues he faced was surrounding security. David's pictures are extremely valuable and to put high resolution versions of his work online means he faces devaluing his work and monetary loss. David features 168 of his images on his website which all are SmartFrames, to date we have stopped 17,242 attempts to steal his individual pictures. He is able to present his work 20x larger than he ever has before
David explains prior to SmartFrame they were compromised in the final route to market by loss of detail and picture quality, essentially the lack of ability online to showcase. David's work is all about the data and the detail within an image and now he no longer needs to refrain from sharing the highest resolution versions of his pictures in existence.
With a majority of the public only ever seeing David's work online, he was looking for the best solution to present it the way it was meant to be seen. He found this with SmartFrame.